Is There Waterproof Wood Flooring?
If you are hunting for waterproof wood flooring, you might find that your options are pretty limited, especially if you are looking for hardwood flooring for a bathroom or something similar.
Let's face it, installing hardwood flooring products are incredibly desirable, but their water resistance is key, especially for those with pets, kids, or any space that is susceptible to accidents and spills.
The problem is that most hardwood flooring is not waterproof. When exposed to moisture, wood floors can stain, buckle, and warp, leaving what was once a source of beauty and pride becoming an in-home embarrassment.
Thankfully, some wood flooring types are more water-resistant than others. So, read on to find out which hardwood floor species and wood flooring products offer the best water resistance.
Popular Wood Species Known for Their Water-Resistance
When shopping for water-resistant hardwood floors, you'll want to know which wood species are most water resistant. However, it is important to note that no flooring is completely waterproof, and even water resistance has limits.
No matter what type of wood flooring product you choose, it is important to always care for your wood floors by avoiding standing water for any long period and properly cleaning up hardwood floor spills or messes immediately.
Consulting a wood flooring expert is a good way to analyze your individual needs and determine which wood flooring product you might want. Call Artisan Wood Floors for hardwood floor installation in Philadelphia and New Jersey to find what will be best for your needs! That said, here are some of the popular species to consider when shopping for water-resistant hardwood floors:
1. White Oak
Aside from hardwood floors, do you know what else is made from white oak? Boats.
We think that says something about white oak wood floors as a water-resistant hardwood floor choice. In addition to being one of the most water-resistant hardwood flooring products on the market, white oak also tends to be quite durable.
Remember that not all oaks are the same regarding water-resistance capabilities. White oak contains a natural material known as tyloses, which blocks water movement inside the wood. Comparatively, red oak does not contain tyloses and therefore does not have the same water-resistant properties. It is an important distinction when choosing your hardwood flooring product.
The hardness, durability, and water resistance of white oak make it a great outdoor wood flooring choice, and its cost is the standard measurement of all other wood flooring product costs.
2. Teak
Teak is an exotic wood species known for its oil, resin, and shine. In addition to its use in wood flooring products, teak is often used in boats and the manufacturing of deck furniture, which is a testament to its overall moisture resistance.
The water resistance of teak is thanks to the natural oils and resins in the hardwood that also give the wood its unique shine. When sealed properly by wood flooring professionals, your teak hardwood floor will be nearly impervious to humidity and water.
As an exotic wood species, teak is quite expensive. However, if you can afford it, teak's durability and water resistance make it one of the best wood flooring species for dogs and kids.
Illegal harvesting of teak contributes to the deforestation of the rainforests. If you choose teak for your hardwood floor, be sure to purchase the product from a reputable manufacturer who only sells teak products harvested from a source certified by the Forest Stewardship Council.
3. Brazilian Walnut (aka Ipe)
Look no further than Ipe or Brazilian walnut for a truly natural wood floor species that is water resistant and durable. It is among the strongest of the hardwood flooring products, boasting a 3680 Janka hardness rating. Janka is a scale that measures the hardness of wood species.
In addition to its durability, Ipe (pronounced E-Pay) has a smooth, well-oiled surface contributing to its super mold and water resistance. Ipe is considered one of the top wood floor options for people with pets, particularly dogs.
Sadly, you get what you pay for, and Ipe is more expensive than less water-resistant wood flooring products. Like teak, if you can afford its hefty price tag, the benefits of a Brazilian walnut wood floor outweigh the cost.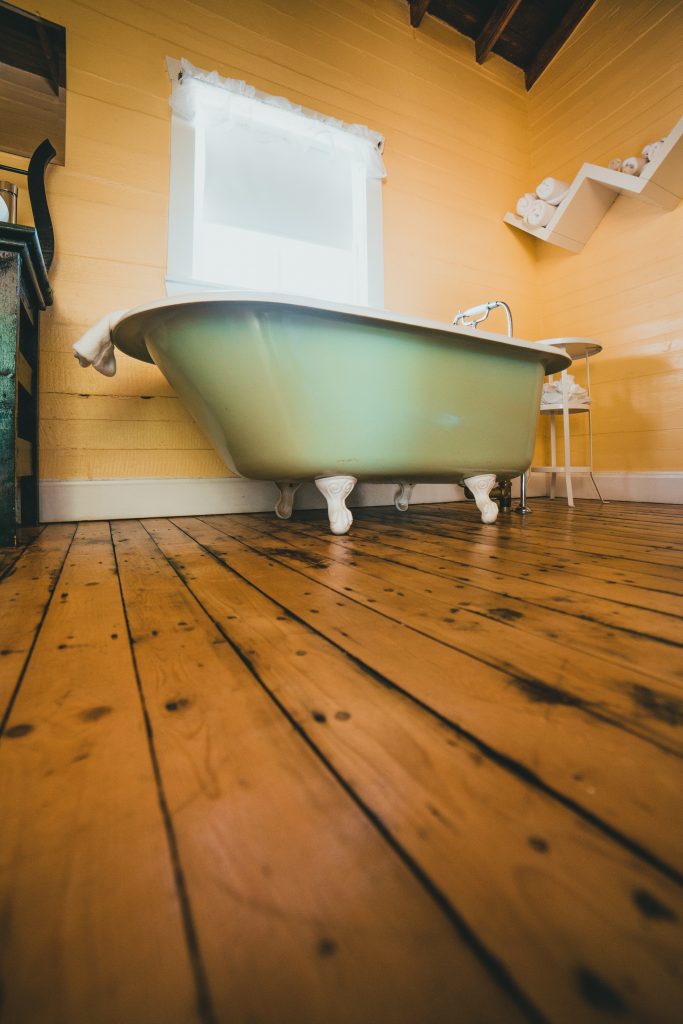 Is Engineered Wood Flooring More Water-Resistant?
Engineered wood floor products are less expensive than solid hardwood floors. Rather than using one solid piece of wood, engineered hardwood flooring features a thick hardwood layer bonded over a premium plywood layer. Although it uses less solid hardwood, it has the same look and feel as a traditional hardwood flooring product.
Since both products are made from natural materials, they'll both bend and warp when soaked. Even engineered wood floors won't respond well to standing water. However, engineered hardwood flooring products are not as susceptible to extreme temperature and moisture changes. Although not necessarily more or less water resistant, an engineered wood floor product is better suited for use in moisture-prone locations like basements, bathrooms, and hardwood floor kitchens.
Consult a PA Hardwood Flooring Expert
Now that you have a better understanding of which hardwood flooring products offer the most water resistance, you can make a more informed decision in choosing the right flooring product for you and your family.
To discuss one or more of these hardwood floor species in greater detail, or if you have more questions about engineered wood flooring, contact the Pennsylvania wood flooring experts at Artisan Wood Floors today – call (215) 515-7355 and ask for Steve for a consultation on your Philadelphia hardwood floor installtion.
Recent Hardwood Flooring Projects
in Philadelphia & NJ
Every client of ours brings unique challenges and needs to their hardwood flooring project. Whether it's intricate pattern or border work, or simply a standard installation it's great to see the finished results. Take a look at some of our favorite projects in Philadelphia and NJ below.