Should You Use Hardwood Flooring In The Bathroom?
Hardwood flooring is one of the most aesthetically pleasing flooring materials on the market, and has stood the test of time as a go-to for durable, low maintenance floors that look natural, warm, and inviting in almost any space. But does that appeal make it a good choice for use in the bathroom? 
While hardwood flooring does tend to have issues when used in a humid or moist area, that doesn't mean you have to rule out the use of hardwood flooring in the bathroom. Certain types of hardwood flooring can be used successfully in a bathroom, and in this article, we'll take a look at what types are best suited to this environment – and what type of hardwood floor maintenance you'll need to perform to keep your hardwood bathroom floors in pristine condition. 
Pros of Using Hardwood Flooring in a Bathroom
Let's start with the obvious: hardwood flooring looks great no matter where you put it. There are some major pros to using hardwood flooring in a bathroom, including:
Longevity: When properly maintained, hardwood flooring is an extremely long lasting flooring material. If it does become scratched, it can always be sanded and refinished, and a lifespan of 25 years or more is quite common for a well maintained floor.
Warmth:

Ceramic tiles in the bathroom can be quite cold in the winter. Hardwood floors will be much warmer under your bare feet, and even the look of hardwood floors can make a room feel much warmer than it may actually be.
Attractiveness:

Bathrooms with hardwood floors instantly feel elegant and classic. Hardwood flooring will have unique grain patterns on every plank, lending a sense of natural beauty and style to your bathroom
Cons of Hardwood Flooring in a Bathroom
The biggest drawback to using hardwood flooring in a bathroom is the presence of moisture and humidity in this type of space. This is no small area of concern, as issues can arise from:
Mold and mildew:

Bathrooms are naturally moist environments, where mold and mildew can grow quickly and abundantly. Mold and mildew feed on organic materials like hardwood floors, and can grow in between or even under the planks. A finishing coating can protect your hardwood floors to some extent, but if you suffer from an allergy or sensitivity to mold or mildew, this may be a deciding factor. 
Splashes of water or spills: It's nearly impossible to avoid splashing or spilling water on the floor of a bathroom. Even just brushing your teeth or washing your face in the skin can cause tiny droplets of water to splash onto the floor. If you use a hardwood floor in your bathroom, you'll need to wipe up any spills immediately to prevent moisture damage from getting into the cracks between the boards. 
Installing a moisture barrier:

If you install your hardwood floor by nailing planks directly to the subfloor, the nails will puncture through a traditional moisture barrier, rendering it useless. Installing your hardwood floor using adhesives or click-together materials is therefore the best choice in areas where you want to use a vapor barrier.  
Flooding:

Every bathroom is at risk of flooding if pipes begin to leak. Older pipes are at a higher risk of developing issues, and potentially flooding the bathroom, therefore you may not want to risk installing a hardwood floor in an older bathroom.
High humidity: Humidity can be just as damaging to hardwood floors, if not more, than splashing or flooding. Every time you shower, the air will grow moist, filling cracks in the floors and penetrating underneath the boards. Over time, this damage from humidity can accumulate, warping or cracking boards.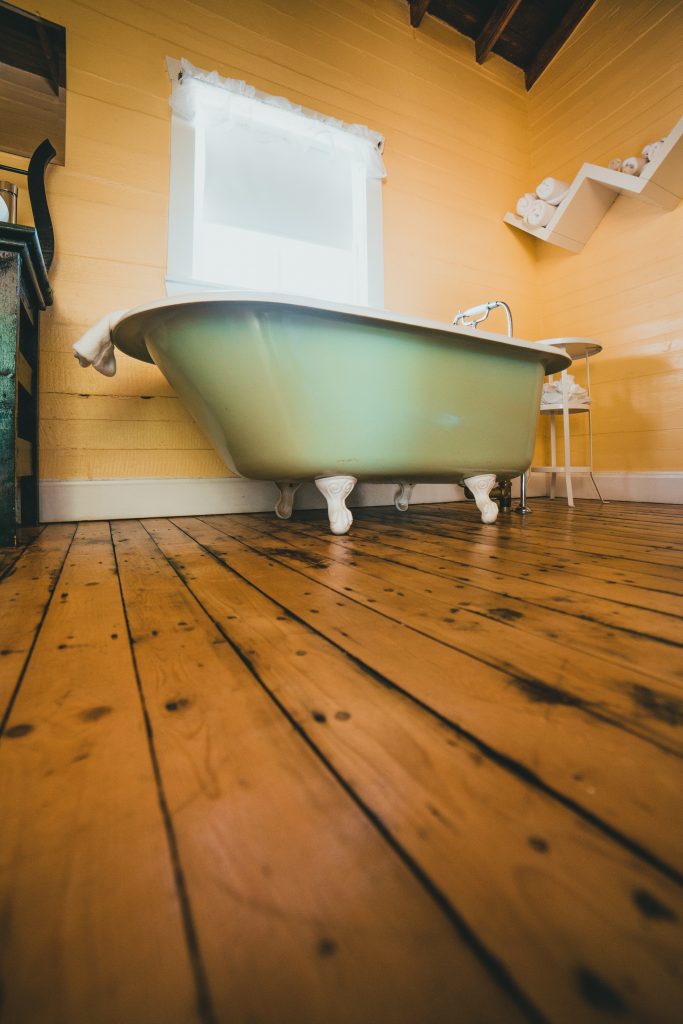 There are several ways to mitigate damage from moisture in bathrooms with hardwood floors. These include:
Installing a good exhaust fan to rid the air of humidity during showers

Reapplying the floors finish layer regularly

Using bath mats with a solid rubber or vinyl backing 

Install tub/shower surrounds

Keep plumbing fixtures well maintained
We are always happy to offer a consultation if you are considering installing a hardwood floor in your bathroom, and our professionals can offer suggestions to help you keep your hardwood flooring in pristine condition, even in the bathroom. Contact us today for a consultation on your PA hardwood floor installation, or call (215) 515-7355 and ask for Steve!
Recent Hardwood Flooring Projects
in Philadelphia & NJ
Every client of ours brings unique challenges and needs to their hardwood flooring project. Whether it's intricate pattern or border work, or simply a standard installation it's great to see the finished results. Take a look at some of our favorite projects in Philadelphia and NJ below.