The Pro's and Con's of White Oak Flooring: What You Need to Know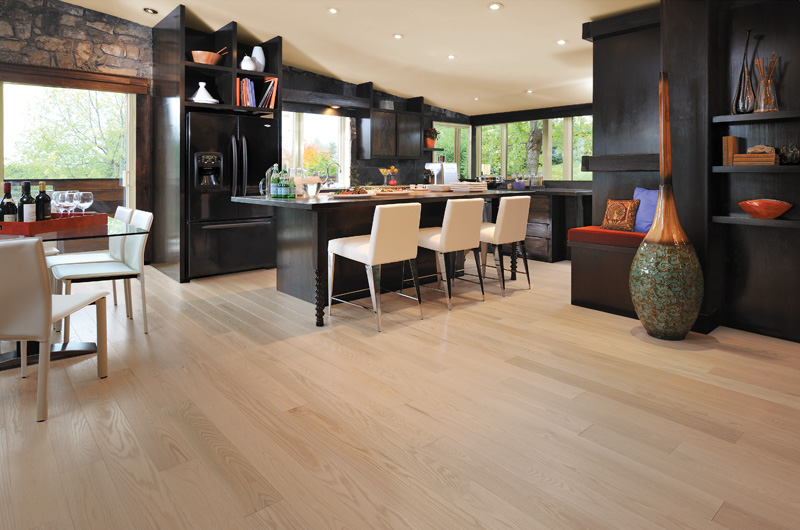 White Oak hardwood flooring is a growing trend that you may have heard about if you're getting into the flooring market, but the hype surrounding it can lead to some misinformation. Oak floor is very popular and widespread, but red oak hardwood is still the more common option. However, the popularity of white oak hardwood flooring is growing for a number of reasons.
While both red oak and white oak flooring are good options for residences they do have differences that might make white oak the more sensible option for you. We'll break down the pros and cons of white oak hardwood floors compared to red oak and other flooring options so you can have the information you need to decide if it's the right flooring option for you.
The Pros of White Oak Hardwood Floors
White oak has a number of properties that distinguish it from red oak while still maintaining the benefits of oak flooring. Because oak hardwood flooring is so popular you'll be able to find a large supply of it. This goes for white oak as well, and because of its lighter color, you can find a wide variety of stains for it from light greys and tans to dark chocolates.
White oak also goes well with the current trends. Rustic flooring styles are very popular and the character of oak makes it great for this aesthetic. Because white oak has less grain than red oak it is more suited to additions like distress, texture, and weathered finishes that add to the style of the room it's installed in while still having a lot of character.
In general, oak is a very versatile flooring option that works with a wide variety of different styles of decor. White oak maintains this quality having a beautiful grain that's easy to stain and change to your desired look. And if you don't want to go in that direction oak has a timelessness that can easily be changed over time as your desired style changes, making it a great investment.
While oak, in general, is a great flooring option, there are a number of advantages to white oak compared to red oak. White oak is denser which means it stains more easily. The grains are also longer and straighter, which gives the planks a more uniform look for a more modern style compared to the wavy red patterns in red oak.
The density of white oak also makes it more durable with more resistance to denting than red oak does. As well as making the white oak more stable, less likely to warp, and more resistant to rotting, which makes it much more suitable for outdoor uses like decks and furniture.
Cons of White Oak Flooring
While white oak has many positive qualities some of those same characteristics come with unwanted side-effects. For instance, the higher density of white oak makes it more durable, but it also makes it slightly harder to saw and work with properly, especially if you're working with someone without the necessary expertise.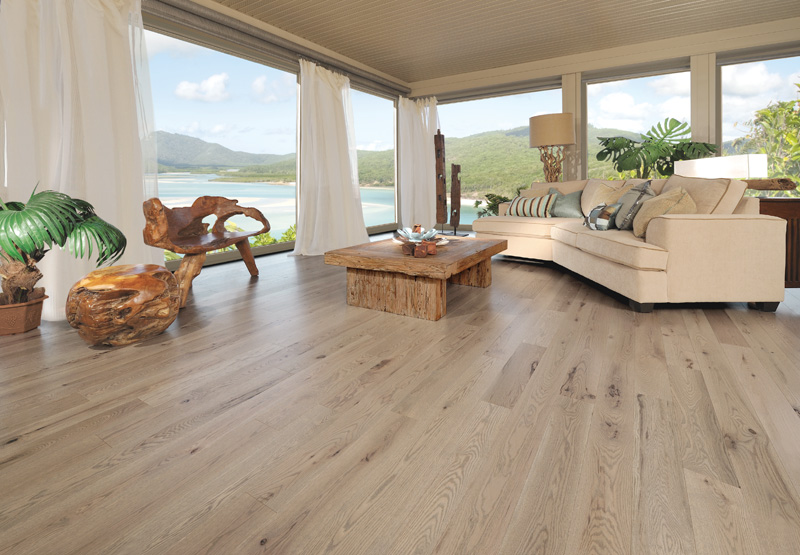 Also, while white oak is trendy, red oak is still the standard, partly because red oak trees are more common domestically and grow faster. This all means that red oak flooring is usually cheaper and easier to get a hold of that white oak is. The current popularity also means that white oak flooring might not be as unique as you want it to be. If you're going for a more signature, striking look a different flooring option might be better.
White oak also comes with some downsides inherent to oak flooring. Oak hardwood floors aren't as soundproof as some other materials like cork or carpet can be. And like all hardwood floors, oak planks are susceptible to environmental problems like temperature and humidity that cause it to warp, expand, and contract, leading to creaking as well.
Overall, white oak flooring has a number of benefits and would make a great flooring option if you know what you're looking for.
If you're looking for more information on your flooring options then contact Artisan Wood Floors. Steve has more than two decades of experience in the wood flooring industry and his knowledgeable team has the expertise to make your dream home a reality. Call at (215) 515-7355 or contact us at https://artisanwoodfloorsllc.com/contact-us/ to work on your new hardwood floor today.
Recent Hardwood Flooring Projects
in Philadelphia & NJ
Every client of ours brings unique challenges and needs to their hardwood flooring project. Whether it's intricate pattern or border work, or simply a standard installation it's great to see the finished results. Take a look at some of our favorite projects in Philadelphia and NJ below.