How Much Do Hardwood Floors Cost in 2022?
The installation of wood floors can enhance any room in your home. An investment in hardwood flooring will not only bring years of lasting beauty and enjoyment to your home but can increase its appeal and its resale value.  
This article will break down the cost of hardwood floor installation to help you decide whether or not new wood floors are a suitable investment in your home.
Average Cost of Harwood Floors
According to data compiled by Thumbtack, the average cost to install solid hardwood floors will range between $5 and $10 a square foot. The final figure will ultimately depend on which type of hardwood floor you choose, where you live, how much prep work is required, and several additional factors. On average, American homeowners pay a total of just over $3,100 for hardwood floor installation.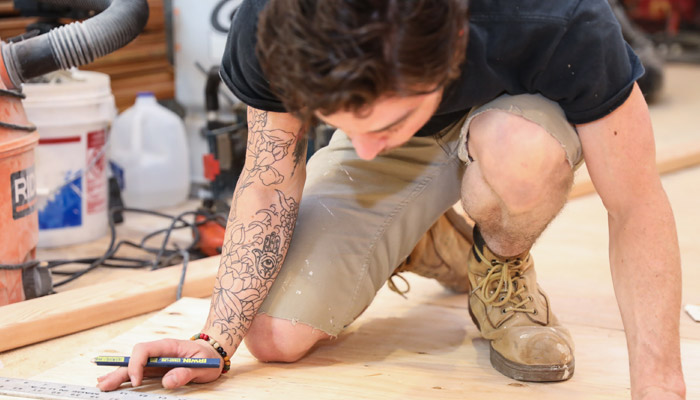 1.) How Much Will a Complete Hardwood Floor Replacement Cost?
If you are considering a complete hardwood floor installation in your home, based on a total of 2,000 square feet, you can expect that you will have to pay anywhere from $8,000 and $20,000 installed.
The wood species that you ultimately choose for the hardwood flooring in your home will be a dominant factor in determining cost. High-end exotic species of hardwood floors like cabreuva and tigerwood, for example, can cost upwards of $20 a square foot. Mid-range hardwood floors such as maple and birch can cost between $8 and $15 a square foot. More affordable hardwoods like cherry, oak, and pine can run you between $3 and $10 a square foot.  
Of course, you want to choose your species wisely, and the cost isn't going to be the only factor. You will likely want to select a certain hardwood species for your floor based on style, décor, and your home's individual needs. As an example, specific varieties of hardwoods will expand and contract as changes in temperature occur. That can cause cracking and damage. As a result, homeowners who live in extreme cold or hot weather climates will want to choose hardwood flooring best suited for temperatures that fluctuate. Radiant heating systems may also be a factor, so it is best to consult your professional hardwood floor installation expert for their opinion on the hardwood floor that is right for your individual needs.
2.) How Much Will a Single Room Hardwood Floor Installation Cost?
When installing hardwood floors in a small area of your home, say approximately 500 square feet, you will likely pay anywhere in the range of $2,000 to $5,000 installed.  
Determining Hardwood Flooring Costs Based on Other Factors
When determining the cost of a hardwood floor installation, several other factors should be considered in addition to the square footage and the hardwood species you choose for your flooring project. For example, if your solid wood floor installation specialist is required to do additional work to your floor's underlayment, like sanding or other floor prep, expect that you will have to pay even more. This will also be true should you decide to go with a complicated or unique wood floor design, like a herringbone pattern or parquet floor.
Similarly, if the subfloor is uneven, you can expect to pay as much as $1,500 to create the even surface necessary to install a hardwood floor. If removing the old floor ultimately reveals more serious issues, such as mold or rot, additional costs will likely be incurred for materials and labor.
Choosing a Wood Floor Installation Expert
According to statistics, half the cost of a hardwood flooring installation job is labor. A respected hardwood floor installer will provide you with a free estimate that includes a complete breakdown of costs so that there are no surprises.  
When deciding who to use as your hardwood floor installation contractor, you should always:
Shop around:

It's okay to get estimates from one or more hardwood flooring contractors. When it comes to any home improvement job, you should always seek at least of three different job estimates.

Check reviews and ratings:

Before considering a hardwood floor installer for your job, be sure to look for ratings and reviews.

Ask for references:

Most hardwood flooring contractors will be happy to provide you with photos and references from jobs they have completed for satisfied customers. When you hear how a contractor handled a previous project, you'll be able to make an informed judgment about how well they might complete your job.

Ask important questions right away:

You'll want to ask the contractor how long they think it might take to finish the job. Ask them if they are responsible for cleaning up the job site and removing debris once the project is complete. You will also want to ask if they do the work
Refinishing You Hardwood Floors May Be a Better Option
If you already have hardwood floors and they are salvageable, sometimes refinishing them is an excellent alternative to completely replacing them altogether. The process of refinishing hardwood floors will remove scratches and gouges that can accumulate over a lifetime of use. Refinishing can breathe new life into your hardwood floors, giving them a smooth and shiny surface. The average cost of a hardwood floor refinishing project will vary based on how much square footage of floor space needs to be addressed. On average, 250 square feet of refinishing could cost around $600, while the cost of a 3,000 square foot refinish job could cost you about $5,000.
Are New Hardwood Floors Worth the Cost?
The truth about any home improvement project is that what may be valuable to some may not necessarily be of value to others. If you are someone that enjoys the look and feel of solid hardwood floors or if your existing damaged hardwood floors are driving you crazy, the installation of hardwood floors in your home may be an excellent option for you.
If you're looking for new ways to reinvest in your home to offer a greater return down the road, the hardwood flooring installation is one of the best moves you can make, especially if you have a plan to sell soon. Often, you can recoup the installation cost through the sale of the home and possibly even get a higher return on the investment. According to the National Association of Realtors, the investment recovery on hardwood flooring is around 106%.
As noted above, installing new hardwood floors will cost more than having them repaired, sanded, and refinished.
Let the PA Wood Floor Experts at Artisan Wood Floors come in and examine your floors first and help you to decide what is right for you. When looking for hardwood floor installation in PA or NJ, or just a sanding and refinishing, call Artisan Wood Floors today at (215) 515-7355 and ask for Steve!
Recent Hardwood Flooring Projects
in Philadelphia & NJ
Every client of ours brings unique challenges and needs to their hardwood flooring project. Whether it's intricate pattern or border work, or simply a standard installation it's great to see the finished results. Take a look at some of our favorite projects in Philadelphia and NJ below.