How Can I Tell If The Hardwood Floors In My Home Are Thick Enough to Refinish?
Whether you are installing new floors and want to change the color of the wood to better fit the tone of your home, you have existing hardwood floors that are looking worn out or scuffed up, or you're moving into a new home and the wood floors just don't suit your taste, in a number of cases, you have the option of sanding down, staining, and refinishing the floors. This allows you to really customize the wood and make it flow with the look and feel of your home. However, not all floors can be sanded down and refinished. Here, we take a look at how to figure out whether you have this option with your floors, and what floors can and cannot be refinished.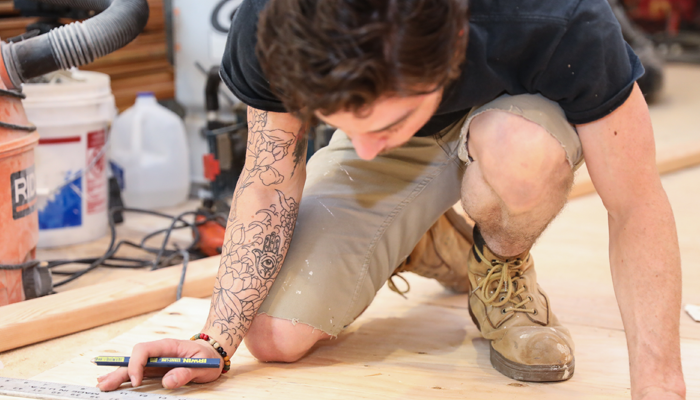 Is is important to figure out if your floors are solid hardwood or engineered. Engineered flooring cannot be sanded and refinished in the same way that solid hardwood floors can. The thickest engineered floors can be sanded and refinished between 3-5 times, due to a top layer of about 4 to 6mm. Engineered wood flooring with a wear layer of 2mm or less cannot be sanded down fully, but can take a light scuff-sanding using a buffer, and then refinished.
If you're unsure whether you have solid hardwood or engineered wood floors, you can figure it out by taking a look where any vents or registers in the floor are located and removing the grille. This should allow you to see the cross-section of the wood and see the center of the board next to the register. You will be able to tell if the board has the layers of plywood that an engineered wood floor has. You can also usually perform this check at an exterior doorway where you can remove the metal saddle from the floor.
This method of determining if your floors are hardwood or engineered is also a great way to tell if the boards are thick enough to refinish. A plank of hardwood at full thickness should be able to stand between 6 and 10 refinishings in its lifetime. Generally, these are 3/4 of an inch thick. However, homes built before the 1920s often have floors that are only 1/4 to 3/8 of an inch thick, due to different milling standards. These floors can only handle a full sanding and refinish 2-3 times. If your floors are an older hardwood and have already been refinished once or twice, they typically are not suitable to fully refinish, as they are too thin.
Sanding wood floors that are too thin can lead to the boards splintering. Most hardwood planks are manufactured with tongue and groove so that they interlock; you should have at least 1/8 of an inch of wood at the top of the board above the tongue and groove for a full refinish, to be safe. It may be possible to refinish the floors if the boards are thinner than 1/8 of an inch, but hiring a professional rather than attempting to do it yourself is highly recommended, as the job is much riskier with thinner floors. However, if your floors are too thin to sand, you have the option to do a screening, which simply removes the existing layer of finish and doesn't take off any of the wood, and then give the floor another few coats of finish to keep them looking new.
You can also assess the thickness of the boards by performing the "business card test." If there is a gap between any of the boards in the floor, place a business card in the gap, and then use a pencil to mark the spot on the card where it meets the edge of the floor. This will show you how much thickness there is from the top of the board to the tongue and groove.
Even if the boards are thick enough to refinish, if your floors have sustained water damage or stains from pet urine, the affected boards may need to be fully replaced. A sanding and refinish will not get urine stains (or the odor) out of the boards, and it likely won't be able to fix warps from the moisture of extended water damage. However, less destructive stains may be able to be removed in the refinishing process. This is why it is crucial to clean up any liquid on a hardwood floor as soon as possible.
If you are unable to determine yourself whether or not your floors are thick enough to hold up to a refinishing project, it is best to call a professional to ensure that you will not be damaging your floors if you take on the job. Never start refinishing your floors before you are absolutely certain that the boards have enough wood to sand down. Refinishing floors that are too thin can lead not only to splintering wood, but exposing nails (especially common in older homes), boards that are unsafe to walk on, and you may damage them enough to warrant a new floor entirely, which will cost you far more than having a professional examine your floors first.
Recent Hardwood Flooring Projects
in Philadelphia & NJ
Every client of ours brings unique challenges and needs to their hardwood flooring project. Whether it's intricate pattern or border work, or simply a standard installation it's great to see the finished results. Take a look at some of our favorite projects in Philadelphia and NJ below.