<h1>How Do Adding Hardwood Floors Affect The Value Of Your Home?</h1>
If you've ever watched a home renovation show on tv, you've seen the homebuyer's look of disdain when they enter a home with carpeting, and they proceed to immediately install hardwood floors in their renovations. Hardwood flooring remains the most popular choice for homeowners, and it increases the appeal of the home as well as the return on investment.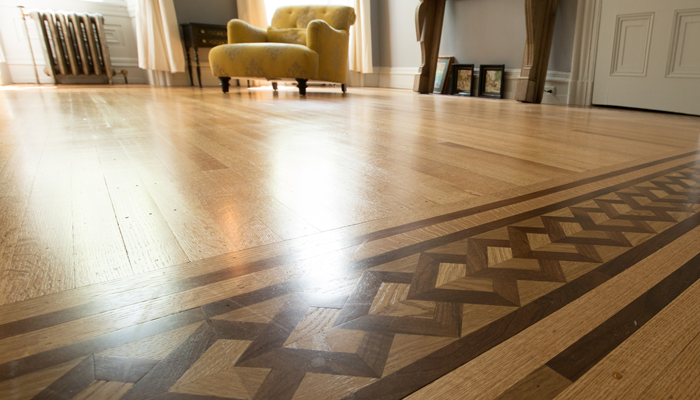 A study done by USA Today, in conjunction with the National Association of Realtors, revealed that a clear majority of homebuyers were willing to pay more for houses with hardwood floors. This was higher amongst younger buyers, and in areas with cooler climates. While hard data on the exact figures of how much value is actually added to a home with hardwood floors, there is an estimated average of 70-80% return on investment and an estimated 2.5% added to the sale price, although a number of buyers report up to 90% or even 100% return on investment after a flooring update/refinish. There is no question that it is one of the most desirable attributes to potential buyers.
Some home improvement projects don't actually add that much resale value, like kitchen and bathroom renovations. Many people want to customize their kitchens to their own lifestyle and tastes, anyways. However, installing hardwood floors is a great option because even if the new buyers don't love the color of the existing floors, they'll be able to easily sand and re-stain the floors to make them their own, at a fraction of the cost of installing entirely new floors themselves. Just having the wood flooring already in the house is a huge turn-on for potential buyers, and numerous realtors have noted that the sight of wall-to-wall carpeting can cause buyers to completely discount your home.
Another key component to getting the most value out of your hardwood floors is to make sure, when it comes time to sell, that the floors are in tip-top shape. This means removing any pet damage, furniture marks, or discoloration by sanding and refinishing the floors and replacing any loose or squeaky boards. If a buyer sees that your home's floors are not properly cared for, that can turn them off to the sale, out of fear that you may not have taken care of other important aspects of the home as well.
According to another study, done by Forbes, removing carpet and restoring hardwood are amongst the more profitable investments you can make in your home to improve its resale value. It ranks well above extensive landscaping, adding stainless steel appliances, swimming pools, and invisible improvements such as HVAC in terms of what is worth putting money into when trying to sell your house. The majority of realtors have also noted that homes with hardwood flooring sell faster, sell for more money, and are easier to sell than homes without it.
Since hardwood floors, with proper care and maintenance, can last for decades to a century, they are already automatically a better investment than carpeting, which generally needs to be replaced after 7-10 years. Hardwood flooring has an initial investment that is higher than that of carpeting installation, but the added appeal, value, and potential return on investment with hardwood makes the cost worth it. While sellers can sometimes get away with carpeting in the bedrooms, potential buyers really want to see consistent hardwood in main areas of the home such as the living and dining rooms, and having hardwood in the master bedroom could be a huge selling point of your home. The rustic, country look is very much in style right now, however, good hardwood floors can match many styles and tastes, and they can outlive you, so they'll be timeless no matter what other decor is on-trend.
Recent Hardwood Flooring Projects
in Philadelphia & NJ
Every client of ours brings unique challenges and needs to their hardwood flooring project. Whether it's intricate pattern or border work, or simply a standard installation it's great to see the finished results. Take a look at some of our favorite projects in Philadelphia and NJ below.