What Kinds of Hardwood Floors Work Best for High Traffic Areas?
Hardwood floors are either newly purchased or inherited in the purchase of a home. And in either case, it is important that they are properly cared for – especially when it comes to those high trafficked areas.
What Parts Of Your Home Are Considered "High Traffic?"
Before you determine what type of wood to use, and how they are best cared for, first we must determine which parts of your home are used the most. No two homes or families are the same, so this decision is ultimately yours to make, but typically the kitchen, dining, and living rooms are the social hubs and therefore used the most While they are all heavily used, they are all utilized for different things and therefore have different flooring needs.
What species and type of hardwoods are best for use in the kitchen?
If you are remodeling your kitchen, this room typically has as much (if not more) foot traffic than the dining area and living room, it also generally requires a flooring option that is moisture resistant that can handle any food spills or plumbing mishaps.
For many years it was thought that hardwood flooring was a poor choice for the kitchen since it could be so negatively affected by heat and moisture. However, with the advent of modern sealers and polyurethane finishes, certain species of hardwoods are being recommended more and more for these areas.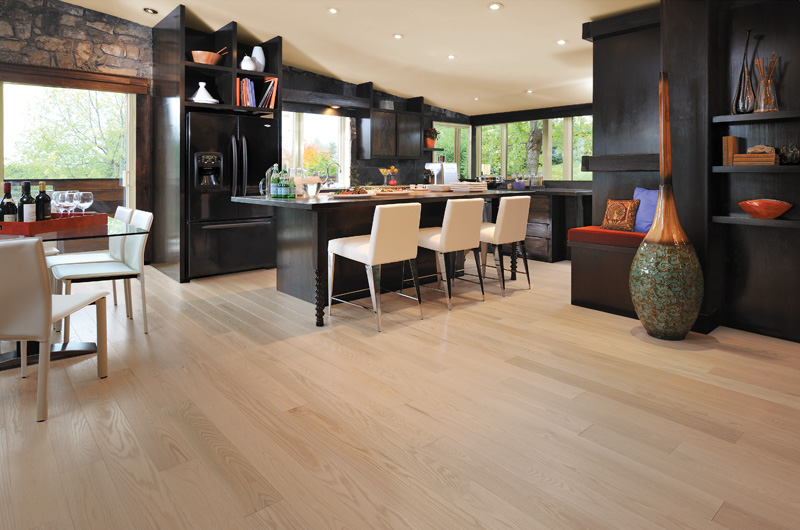 Hickory and maple, for example, are two types of hardwood that hold up well to moisture and temperature fluctuations. Another excellent option for the kitchen is engineered hardwood as it can be made to mimic the other types of flooring in the home to help create a seamless overall look. These three options are all great for the kitchen as they are easy to clean and can be matched with any tile in the room.
What Species of Hardwood is Best for The Living Room?
The living room and dining areas have to deal with a lot of wear and tear. From sneakers and high heels, to constantly shifting furniture and animal claws, these rooms need a hearty flooring option.
For this reason, a top choice to install in these rooms are Brazilian walnut, mahogany, cherry, and hickory. While these types of hardwoods typically come with a higher cost, it will be clear to see where that extra money went when you see how truly beautiful and durable they all are.
What About Front and Back Entrances
Similar to the kitchen, the front and back entrances need to have a flooring choice that can handle a lot of foot traffic, and be made to withstand moisture. That being said, these areas generally have many different style choices, and therefore different flooring options.
Pine and bamboo are excellent choices for hardwoods that can withstand quite a bit of moisture and heavy foot traffic. Engineered hardwood flooring is tough and moisture resistant, but unlike the other two options, it can be refinished, but just not as often.
What Makes Hardwood Flooring The Best Option?
If you have decided to purchase new hardwood flooring, then choosing the correct option from the start will help you combat the wear and tear you are likely to find in your home's most highly trafficked areas. This could result in everything from children and pets, to heat, humidity, and even UV rays.
Choosing a high quality, solid hardwood floor not only offers you comfort and an aesthetic upgrade, but it also offers a high level of durability for those dents, scratches, and scuff marks.
What makes high-quality hardwood such a popular choice is that down the road when damage does occur, you are able to repair just the highly trafficked areas that may need it the most – rather than having to refinish the entire floor. And if you left the choice up to your realtor, solid hardwood flooring would be the slam dunk winner as this is the option that easily adds the most overall value to your home.
With any of these options, there are certain trade-offs you are making with each one. For example, engineered hardwood flooring offers a price point that is typically about half of what you might pay for a solid hardwood option, but it has a shorter overall lifespan.
When it comes to updating engineered hardwood flooring, it may not allow its surface to be sanded and refinished as often as solid hardwood, but to look it's best it has shown that it just doesn't need it as often. And while engineered hardwood is typically resistant to warping from heat and humidity, solid hardwood is not.
Pros and Cons of the Various Hardwood Species
There may be no greater feeling than peeling up an old, worn-out carpet and seeing a rich, beautiful hardwood floor staring back at you. So often this is the case when purchasing a new home, and many times a carpet was chosen to begin with because of existing damage to the flooring underneath.
If however, you're not so lucky, you have many options when choosing from all the different species of hardwood that are available for the areas that your family uses most.
Maple and Pine
Maple and pine should usually be avoided in these areas as they aren't as hard as others and therefore will scratch and dent more easily.
Oak and Hickory
Red and white oak and hickory are all stronger and more resistant to damage. They all have a stronger grain to them as well which helps to mask what damage they do endure. These three species all have the added bonus of being grown in the USA which will both save on shipping and help the economy.
Choosing a lighter color hardwood will help to conceal any scratches that might occur, and anything with a polyurethane coating – regardless of the species – will always be a tough option.
In the end, the right choice for your hardwood flooring are as varied as today's modern families tend to be. Choosing a new floor versus refinishing an existing floor is a big decision and seeking out as much information as possible is always your best bet.
by Myles Albert of Interior Excellence LLC
Recent Hardwood Flooring Projects
in Philadelphia & NJ
Every client of ours brings unique challenges and needs to their hardwood flooring project. Whether it's intricate pattern or border work, or simply a standard installation it's great to see the finished results. Take a look at some of our favorite projects in Philadelphia and NJ below.