What's The Best Way To Fix Gauges and Cracks in My Hardwood Floor?
Over time, even the best-kept hardwood floors can end up with deep scratches, gouges, or cracks that can not only affect the beauty of your floors but can cause even more damage over time. Hardwood floor damage can happen for any number of reasons. Unruly kids, untrained pets, high-heeled shoes, and moving furniture can all be contributing factors to the wear and tear of your beautiful hardwood floors. Although life's accidents are truly unpredictable and ultimately unavoidable, there are several preventative measures that you can take to protect your hardwood floors and minimize potential damage.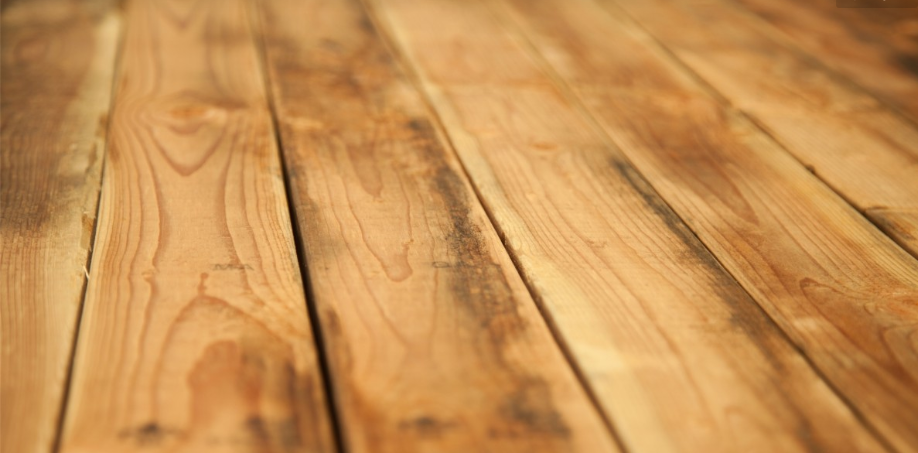 Take preventative measures to help prevent damage to your hardwood floors
To prevent severe hardwood floor damage, you should always practice proper floor care and take certain preventative measures to protect your floors.
Proper hardwood floor care includes regular cleaning and routine maintenance, placing pads under furniture legs, placing runners in certain high-traffic areas, and placing mats at exterior doors. It is also advisable to clean up pet messes, spills, or accidents immediately with a dry or slightly damp cloth to avoid damage. 
Routine maintenance involves sweeping, dust mopping, or vacuuming, using a bare floor setting to remove dust and dirt. Never use wet or steam mops, as these can damage the floor's finish and the wood over time. Only use cleaners that are made specifically for your hardwood floor's specific finish. Your local hardwood flooring professional can provide or recommend the right product to use.
While these methods will not eliminate hardwood floor damage altogether, they will certainly help minimize dings and scratches and help prolong the life of your floors.
There are many ways to fix your already damaged hardwood floors
While prevention is always the best way to avoid unsightly damage to your hardwood floors, cracks and blemishes are inevitable over time. Thankfully, there are many options for getting rid of cracks and scratches on hardwood floors. While most hardwood floor owners are capable of making minor floor repairs on their own, you should always proceed with caution. If the job seems to be too much to handle, it doesn't hurt to consult a professional hardwood flooring company to come in and give you an estimate on any needed repairs.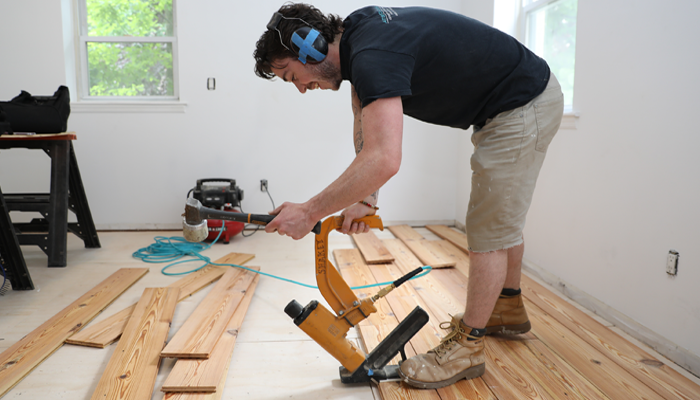 Repairing finish damage can be is easier than you think
If the scratches aren't too deep and are just in the finish layer rather than in the wood itself, you can sand the floors, take off the existing finish layer, and recoat the hardwood floor. A hardwood floor sanding and recoat is the most tried and true way to spruce up any hardwood floor. You can also color the damaged areas with a furniture pen, stain marker, or regular hardwood floor stain applied with a cotton swab. These methods will help to make scratches on the wood floor appear much less noticeable.
In some cases, refinishing the floor could be your best option
In more extreme cases, your best option may be to refinish the hardwood floor.
If your engineered or solid hardwood floors are thick enough for refinishing, you can sand down the wood, remove the top layer as well as those deep gouges, and apply new finish coats to the boards. Use an oil-based polyurethane finish, as it is one of the most durable on the market and will mitigate much of the daily wear and tear on your hardwood floor. It is particularly useful in more high-trafficked areas.
This can be an enormous undertaking that should only be taken if many deep scratches on the hardwood floor are present. A professional hardwood floor refinisher can be called in to do the job if you're not comfortable doing it yourself.
Sometimes, the damage is too significant, and screening or refinishing isn't sufficient
Sometimes the hardwood floor damage is beyond a screening or even a complete refinish. 
Gouges in the boards that have taken out large chunks of wood will require filling to prevent weakening. You can fix deep gouges in your hardwood floor with wood putty. Wood putty is available in several color shades to better match the color of your hardwood floor.  Wood putty is great because it is resistant to shrinkage, so it will hold better when the boards expand and contract during the summer and winter. Sand the putty to ensure it is flush with the board and then coat with a finish.
Cracks in hardwood floors can also be relatively easy to fix, depending on the severity of the crack. Cracks often occur in older hardwood floors or in homes that are too dry. If the crack is small enough, use a wood filler to seal the wood and stain or color it to match the shade of the floor. Do not use wood filler on more significant gaps or holes. Because hardwood flooring will shrink and swell with the weather, the filler bond could eventually break.
Do not attempt to fix hardwood floor gaps between boards with wood fillers
Because of the shrinking and expansion that occurs with the change in seasons, gaps between boards are typical for hardwood flooring. These gaps do not need to be sealed with filler if you notice them during the cold winter months. Doing so will damage the boards when they expand back into place during the warmer months. If a cold draft is coming up through the floors, your best bet is to check your structural insulation and address the problem that way.
An excellent way to prevent excessive shrinkage or expansion of your hardwood floorboards is to keep your home's humidity consistent by using a humidifier in rooms with wood floors.
Be sure to contact a professional when the damage is too severe
If there are severe cracks in any wood plank, the entire board may need replacement. If this is the case, it is imperative that you contact a hardwood flooring expert for a professional hardwood repair and refurbishment. The Philadelphia hardwood floor experts at Artisan Wood Floors will make sure your floors are shining like new, and will also help you prevent further damage to your existing hardwood floors.
Recent Hardwood Flooring Projects
in Philadelphia & NJ
Every client of ours brings unique challenges and needs to their hardwood flooring project. Whether it's intricate pattern or border work, or simply a standard installation it's great to see the finished results. Take a look at some of our favorite projects in Philadelphia and NJ below.