Sanding, Refinishing, Restoring: How To Tell What Your Wood Floors Need
Hardwood floors are very durable, but they can still suffer from wear over time. There are several different ways to repair a hardwood floor and if you already have a damaged floor, you may be wondering what kind of repair is right for it. Whether it be sanding, refinishing, or restoring, each type of repair serves different purposes. As Philadelphia's hardwood flooring experts, we'll run you through these three repair techniques and how to tell which repair your floor needs.
How to Sand Hardwood
Sanding is the simplest repair technique. It involves simply sanding the top layer of the floor's finish until the damage has been buffed out. This technique is used for minor surface damage to the floor that's only penetrated the finish layer and hasn't damaged the wood. Ideally, you would address this issue as soon as possible so the fairly minor damage can be fixed before that penetration of the finish has a chance to worsen to the point that a more extensive repair is necessary.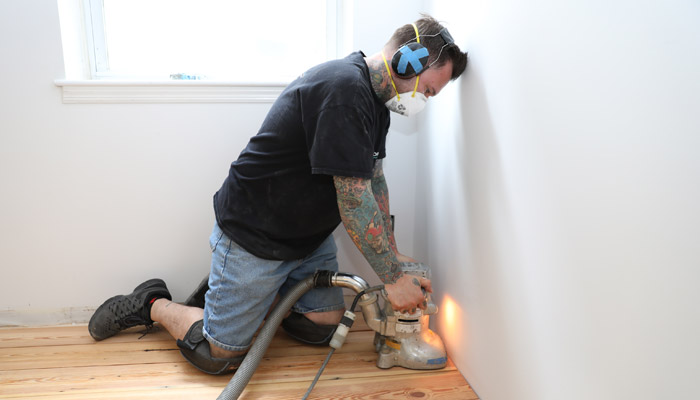 Refinishing Hardwood
Refinishing hardwood floors is probably the most commonly performed repair. It's a two step process that involves sanding the varnish down just like in a sanding repair and then applying a new layer of varnish to the damaged area to create a fresh seal on the repaired area. This is the repair needed when just sanding is no longer an option because the damage has gone too far into the finish to be sanded out. 
Once the damage has gotten to the point that a refinish is necessary, you should try to get the floor repaired as soon as possible, otherwise whatever is causing the damage will eventually reach the bare hardwood, and if it starts damaging the hardwood it will require a more extensive restoration. If you start seeing spots on the floor that are discolored or have a rough surface it means the finish is likely damaged and it's time to repair it.
Hardwood Floor Restoration
A hardwood floor restoration is a more extensive repair process. It is performed on floors that are beyond refinishing. Generally  this means that there is so much structural damage to the floor that simply refinishing it will not restore it's look and integrity. This can be caused by deep damage like gouges in the floor, spots of wear that have not been repaired for a while, or deep structural damage like water damage that has ruined certain parts of the floor. Now, the goal of a restoration is to keep the floor in place while replacing the damaged parts. It's most often done for old floors where you want to preserve the existing hardwood. 
Once a floor has suffered from the kind of damage that requires a restoration, your time frame to get a repair is less urgent because the damage has already been done. However, you should still get it repaired sooner rather than later because that damage can still spread and taking care of it will reduce the number of planks that need to be replaced. This makes the process less extensive, which saves you money in the end.
Now that you've had a brief breakdown on these three repair techniques you should have a better idea of what kind of repair your floor needs. You should have a reputable hardwood flooring company take care of these repairs as soon as possible to have a better chance at preserving the hardwood. Remember, having a hardwood floor repaired is almost always more affordable than having it replaced. Call us (215) 515-7355 at and ask for Steve for a free quote.
Recent Hardwood Flooring Projects
in Philadelphia & NJ
Every client of ours brings unique challenges and needs to their hardwood flooring project. Whether it's intricate pattern or border work, or simply a standard installation it's great to see the finished results. Take a look at some of our favorite projects in Philadelphia and NJ below.